08/01/2019
Summertime Grilling Essentials for You, Your Customers
Image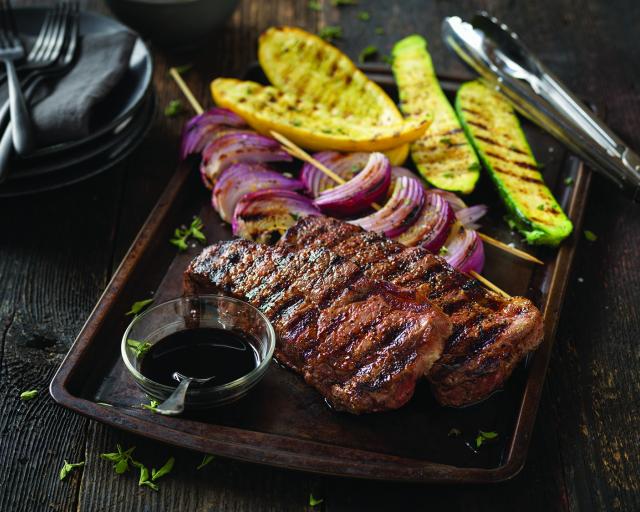 The rule of thumb with beef cuts is that the loin or round nomenclatures meet the government guideline for lean. Our general grill tip for beef is that you want to cook it over medium heat. Too hot and you get too much of a char; too low and you don't get the proper caramelized, brown exterior.
For more tips, we have great information on our "Beef. It's What's for Dinner" website, 
PG: Discuss some ways that grocery stores (meat departments, prepared food departments, etc.) can offer added value, convenience and expertise to meat preparations.
DZ: One of the biggest values you can add is advice and education. I'm a big proponent of getting staff on the other side of the meat case, so butchers are accessible and not seen as "Wizard of Oz" figures behind the scenes. It's important to talk one-on-one with shoppers who need help choosing the right cuts, or want new ideas on how to put a meal together easily with different options that are available across categories.

Merchandising is also really important. For instance, I've seen grocery stores feature their own rubs in big glass jars at the meat counter. Shoppers can fill bags or small jars with the amount they want. I would suggest going a step further and adding usage instructions on labels or cards to go with the purchase. Rubs are used for flavor, not tenderness, so they work well on a top round, which is a bit mild and needs a flavor boost.
If you're offering pre-marinated beef, the purpose is to tenderize and add flavor. It's important to know how much marination time different cuts need. For a less tender flank, you can pre-marinate for six to 24 hours, whereas a filet needs only 30 minutes to two hours. It's important not to overdo the marination, because then you lose that steak bite.
This is another example of the value of having knowledgeable staff available to talk with shoppers about what and when they are planning their meals so that they get the preparation right. Again, our website is a great source on marinades and rubs. 
PG: How can prepared food programs help bring new ideas and upgrades to burgers and sandwiches?
DZ: I'm a purist when it comes to burgers; salt and pepper is all I need. But I have seen pre-made burger patties with blends of mushrooms or cheese, both of which complement the flavor and the meatiness of beef. We've done a lot of research on how to address customers who are looking for better-for-you burgers. Offering a patty made with 93 percent lean beef makes burgers a lower-fat option, but this doesn't stay together as well as a higher-fat burger. We recommend adding egg white and breadcrumbs for binding. Grocers can pre-make this mix for patties, which will get the attention of health-minded eaters. This is great with a tzatziki sauce, which you can make in-house, package and sell.

For sandwich ideas, I like to suggest that when people are having a big grill day, plan for some leftovers. You can slice a pre-grilled steak thinly for sandwiches during the week. I like classic toppings: provolone cheese and sautéed peppers and onions make a great dinner sandwich.

Precut produce is another convenience that prepared food programs can offer their shoppers. It's such an easy thing to do, but has such a big impact when you cross-merchandise at the meat counter or with deli items.
Image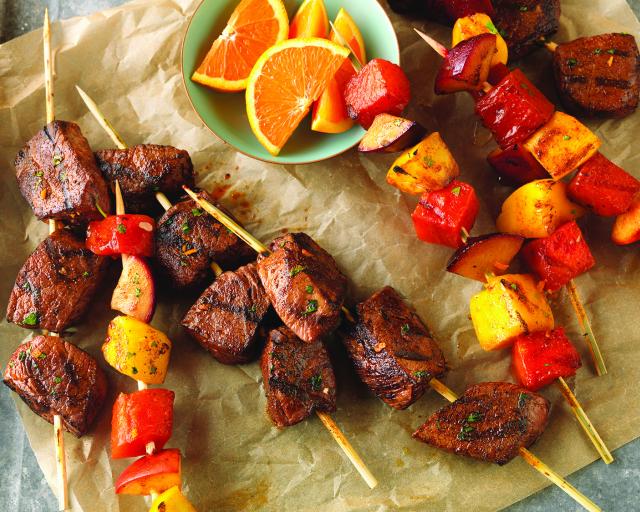 Look beyond the typical onions and peppers for grilling, and consider skewers of fleshy fruit like mango and pineapple. Customers can grill these up for an easy salsa or side dish. Thick slabs of watermelon are also great for a quick grill. I like a sliced steak sandwich with watermelon salsa and a salty cheese.
PG: What about smaller cuts — kebabs or other skewered preps — for quick cooking? What are some ideas for offering pre-made skewers? 
DZ: Again, precut and -skewered produce is a convenience that busy shoppers appreciate, and you can mix fruits and veggies on a skewer. Pineapple, red pepper and onions are a great combination. Eggplant, peppers and zucchini work well with Mediterranean herb-rubbed steak. If you are offering marinated beef on skewers, let buyers know they should pat them dry before grilling to avoid a steaming effect or flare-ups from oil. Thinly sliced beef can be threaded on skewers at the meat department for a really quick-cooking option on the grill. I like flat iron for this treatment because it's the second most tender cut — filet is the first. 
PG: What are some notable flavors and culinary influences that are important to grilling season 2019?
DZ: Asian flavors continue to be popular, and they work great with the threading technique. I'm a big proponent of keeping things simple, so use a bottled teriyaki sauce; add honey, cumin and lime juice for extra flavor. You can pull in Korean flavors — some kimchi-style pickles and a lot of fresh greens.
PG:What's new in terms of extras and side dishes?
DZ: I like all the classics — potato salad, coleslaw and baked beans — but I like to make them with some contemporary spins. For instance, kale is still hot, and I like it in a kale slaw with some Asian flavors that you can pull together easily with a bottled dressing enhanced with ginger and citrus. Ancient grains are popular and can be used in salads with flavors and ingredients that typically go with pasta salads. I like to boost baked beans by mixing in a savory-sweet jam. These types of customizations are easy for staff and home cooks of any skill set, and they make a big difference.