08/13/2019
Tailgating Solutions: Onset of Football Season Spurs Grocers, Manufacturers
Key Takeaways
While tailgaters are looking for more convenient, grab-and-go items, rising trends toward on-site grilling and "homegating" show that that there's also room for more elaborate solutions.
Social media has become an important aspect of promoting tailgating products to consumers.
Retailers that aim to be one-stop shops for football fans' needs, offering a wide variety of items across the store, cross-merchandising complementary products, and providing recipe and entertaining inspiration, will win the tailgating occasion.
"We have seen tailgating menus continue to evolve as consumers' palates have evolved," notes Boyd, adding: "Fans are looking for convenient, grab-and-go items. They are also setting up more sophisticated tailgating spots, with some fans setting up extensive grilling equipment, and others bringing trailers and motor homes to bring an elevated level of comfort to the stadiums."
Easy BBQ
A shoo-in for any tailgating party with grilled meats on the menu is Coleman Natural Foods' Budweiser BBQ Variety Pack, part of the company's Budweiser BBQ Collection.
The pack consists of a half rack of St. Louis-style ribs with barbecue sauce, 14-ounce classic pulled pork in barbecue sauce, and four beer bratwursts, all individually packaged inside the box, which resembles a 6-pack of Budweiser Lager Beer.
Mel Coleman, VP of Golden, Colo.-based Coleman, notes that "consumers want to feed a crowd without the need for hours of prep. This is the perfect thing to grab and go."
The collection, introduced earlier this year, also features St. Louis Style Pork Spare Ribs and Pulled Pork, each in Budweiser Brewmaster's Premium BBQ Sauce; Bratwurst infused with real Budweiser Lager; and Jalapeno Cheddar Bratwurst infused with Cheddar Cheese and Real Budweiser Lager Beer.
Image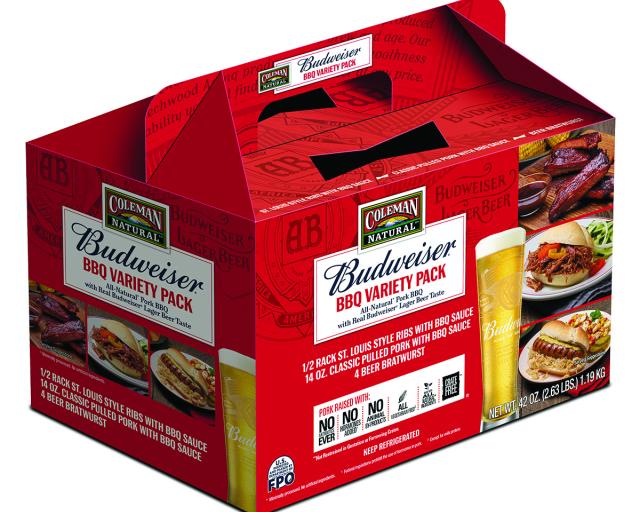 Each item in the collection is made with slow-roasted Coleman Natural pork, raised 100 percent crate-free by American farmers with no antibiotics, added hormones or growth promotants.
Holy Guacamole
"Football is the No. 1 sport in the country, so it was a natural fit for Avocados From Mexico, the No. 1 brand of avocados, to align its marketing program with the sport, which is an American tradition in the fall," enthuses Stephanie Bazan, VP of market development at Irving, Texas-based Avocados From Mexico. "This time period is recognized by most major CPG brands in the grocery aisle leveraging football thematic [elements] on their packaging and/or promotional offers that tie into popular football sports teams."
Adds Bazan: "We have a robust calendar of activity to support consumer demand during this fall time period. Our fall programming is designed to help our customers drive their sales of avocados during one of the key occasions of the season through eye-catching football thematic displays, POS, consumer savings offers [and] demos, as well as digital support."
Image
Further, she notes: "As consumers continue to choose fresh ingredients for their gatherings and parties, when it comes to avocados, it's important that they are educated when purchasing, to make for optimal serving.
"Avocados From Mexico recently performed in-depth research and found that ripening and preserving of avocados are key areas of concern to consumers. Our new Education Playbook has guidelines that give retailers insights for positioning and strategy around Avocados From Mexico."
Beyond that, Bazan has some advice on how food retailers can win over tailgaters. "For avocados specifically, grocers can capitalize on tailgating … occasions by increasing the dimensions of the fresh avocado displays and offering additional sizing for versatility and price options," she suggests.
"It is also important for grocers to look at avocado cross-merchandising opportunities near the fresh meat offerings during this time period, as consumers are also looking for grilling solutions for [these] celebrations."
Baked-in Profits
Brie Buenning, integrated marketing manager at San Leandro, Calif.-based La Brea Bakery, points out that "consumers are gravitating towards smaller bites, and we've seen an uptick in popularity among elevated finger foods and items like grazing boards that offer a variety of smaller samples. In addition to size, consumers are looking for ways to make entertaining less daunting, and sometimes that's incorporating par-baked or pre-made foods into recipes and dishes."
To that end, "La Brea Bakery's Take & Bake line of breads are not only perfect for getting that fresh-baked, right-out-of-the-oven quality, but a convenient way to have artisan bread at your fingertips without sacrificing quality in ingredients, whether it's paired with simple spreads or added to a favorite dish," she recommends.
Buenning goes on to identify "a handful of ways" that grocers can capitalize on the occasion: "The first is making sure their pods are centralized in the store and are one-stop shops that … provide added inspiration to consumers. Another would be recipe inspiration on the website and on store-accompanying apps. Using beautiful photography and providing step-by-step instructions and the ingredients they'll need in one place can be helpful. Circulars are also a great way to show interesting use cases for foods, in addition to how a store can provide more than ingredients, but [also] apps, drinks and even main meals."
"More and more people are using social media to get ideas for easy ways to make their tailgates and parties more exciting."
Jason Baskin, Hormel Foods
For its part, the company hopes to score a touchdown with an exciting football-themed initiative. "This fall season, La Brea Bakery will be partnering with Kroger to sponsor their college tailgating program," says Buenning. "This program gives consumers the opportunity to access a unique tailgating experience at USC and UCLA football games through purchasing a set amount of La Brea Bakery breads or other participating sponsors. This drives both general awareness and sales, as consumers get to experience the brand through this tailgating experience, which includes tasting some of our popular breads."
Image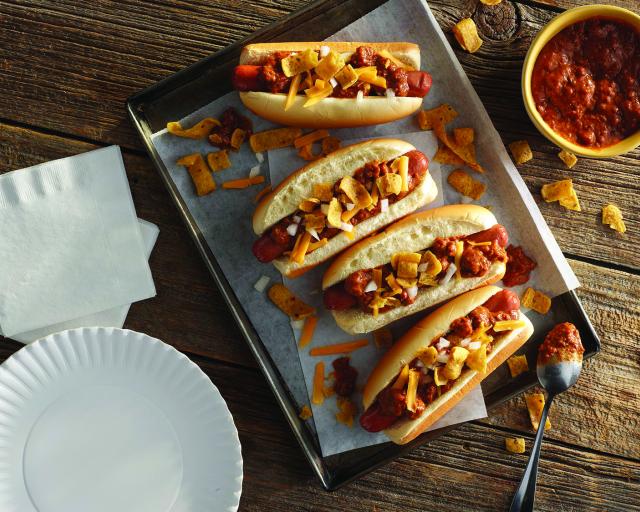 Unsurprisingly, given that response, he sees online promotions as key to boosting sales and consumption of chili.
"More and more people are using social media to get ideas for easy ways to make their tailgates and parties more exciting," observes Baskin. "We leverage that with brands like Hormel chili by showing them easy ways to upgrade their ordinary foods into exciting dishes that their guests will love on the same channels and on our website."
"While fans have always watched games at home, we're seeing a new trend in 'homegating,' with fans gathering at home and buying the same products they'd get for tailgating at stadiums," says Safeway's Boyd, with Bazan, of Avocados From Mexico, also noting the practice.
This could mean fine-tuning displays and promotions to play up the comforts of a home-based celebration, and featuring recipes and meal suggestions not so reliant on portability, among other tweaks.
However retailers choose to mark football season in their aisles, the goal, of course, is to make it to the end zone. As Boyd observes, "Before games, fans head to Safeway to gear up for all of their tailgating or homegating needs, and our stores see an increase in sales as a result." 
Make Tailgating a Specialty Occasion

Most of us are familiar with the usual tailgate fare of burgers, hot dogs, chips and salsa and the like, which few would describe as upscale. Some party hosts, however, are seeking to elevate the game-day experience.

Matt Robertson, marketing manager at York, Maine-based Stonewall Kitchen LLC, a purveyor of gourmet sauces, condiments, cocktail garnishes, oils, vinegars, pastas and more under several brands, says that "having easily accessible and delicious products that take traditional tailgating items to the next level is the biggest trend. [Consumers] are looking for easy-to-make but restaurant-quality dishes for entertaining."

According to Robertson, ambitious tailgaters might make use of such Stonewall offerings as Tricolor Fusilli — "great for pasta salads" — Bacon Queso "to dip your chips in or spoon on your burger"; Bacon Vinaigrette, which is "perfect dressing for your salad"; Apple Blueberry Salsa; and Buffalo Wing Sauce.

Beyond these items' sophisticated flavors, an exquisite spread featuring such products is bound to make a favorable impression while the players are on the field, and perhaps long after.

As Robertson asserts, "People value high-quality foods more now than ever, and with social media, they're looking to host and create unique and interesting dishes with beautiful presentation."

Stonewall Kitchen sells its products at nine company retail stores and select retailers, including grocers, across the United States.